Susie Bell
A book designer, I have been self-employed since 2000, when I left office-based work after ten years in publishing. As a freelance designer I have amassed a considerable portfolio of books, catalogues and brochures and have wide-ranging experience of the book production process.
Most of my work is for UK trade publishers (such as HarperCollinsPublishers, Express Newpapers, Headline, Hachette, Carroll & Brown), in full colour and monochrome, using Adobe InDesign or Quark XPress and including the supply of fully finished, press quality PDFs. I also use Adobe Illustrator and Photoshop and have extensive experience with co-edition publishing and book packaging. I am fully independent and have up-to-date kit.
As well as designing books and marketing materials, from two-page glossy presenters to fully-indexed multi-page catalogues, I specialise in the more technical, if sometimes less glamorous, aspects of the design workflow, from reformatting to prepress trouble-shooting. The majority of my work is repeat business from satisfied clients. Read on to learn about some of my recent work.
Simple monochrome work
Primarily A or B format paperbacks but occasionally Demy or Royal hardbacks, these monochrome puzzle books are frequently published in series under the logo of a major newspaper. A quick and accurate turnaround from puzzle/copy supply to final PDF is essential as lead times are usually short - a turnaround of less than a week from first files to print ready PDFs has been required and achieved. Puzzles files are best supplied as simple PDF or EPS files but often come via a newspaper's in-house application files, and those can take some beating into shape before they are fit for use.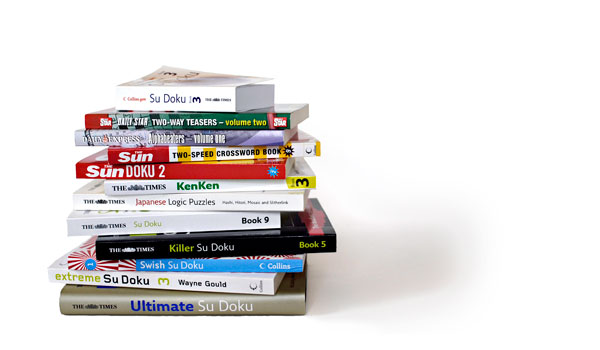 Integrated monochrome work
With quotations, individual diagrams and illustrations interspersed throughout the text, integrated books require care and a keen eye for balance and harmony, both by the page and in the book as a whole, not to mention the ability to create a particular impression, whether it's one of gravitas for business and 'how to' books or a lighter approach for humorous books, through careful choice of typefaces and diagram styles. Diagrams are created especially for the book in question, for instance the hundreds of bespoke diagrams I made to illustrate the author's examples in How to Master The Times Crossword.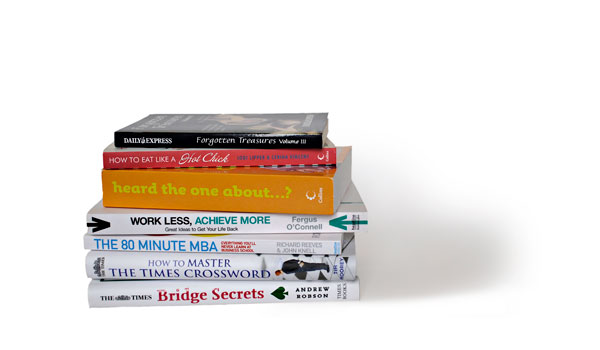 Colour work
The colour books I design vary enormously, from simple miniature editions of gift books for the UK market only (eg Cathedral Cats mini edition) to complex data-rich fully integrated titles like the Jane's Recognition Guide series which have to be created with co-editions and Americanisation in mind (see Case Studies for more details).
I'm fully versed in the creation of files, either native application or finished PDF, suitable for fifth-plate changes on press to accommodate foreign co-publishers' translated text (including captions and text in diagrams).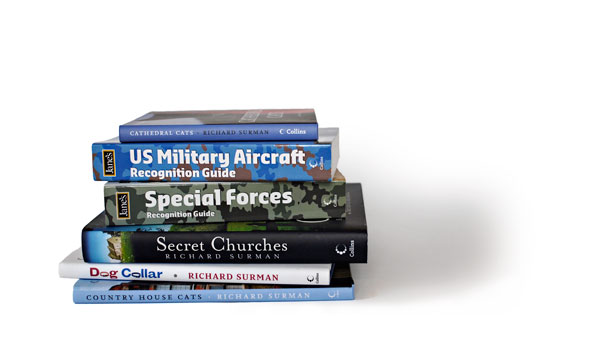 Catalogues
Like integrated books, catalogues are usually full-colour, but are more straightforward as they don't need to be co-editionable and very rarely use spot colours or special finishes, but they pose their own challenges. Whether they are simple gatefold flyers or full-scale catalogues, they inevitably have very tight non-negotiable deadlines (four weeks from brief to finished copies, to be ready in time for a major book fair, is a common requirement). Because they're produced so far in advance of the publication dates of the books they feature, their content and layout are changing throughout the design process, as every proof brings new revisions, deletions and additions, so attention to detail and meticulous version control is crucial.
Catalogues are also often the work of many departments (briefed by marketing teams, with textual content generated by editorial and sample covers and spreads by design), so sign-off is often more complicated than for books. Many also have a full index, which, when the content is a moving target, requires extra care. I'm used to receiving text not only in page layout files, but also in Microsoft Word, or as plain text or as styled XPress Tags or InDesign Tagged Text.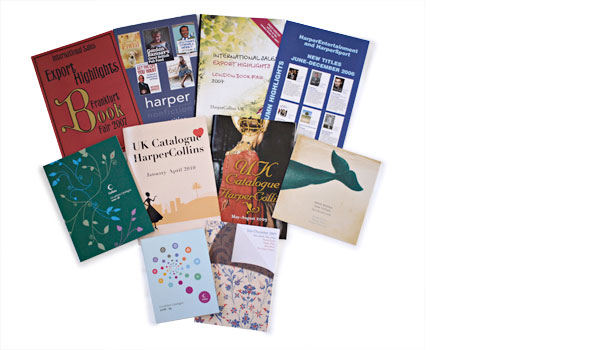 Cover reformats
Although my strength is not as a creative cover designer, I'm often asked to rework existing cover designs, for example adapting existing hardback artwork to create a short-run book proof cover or audio CD jacket.
The design challenge here is in reusing existing material in often completely different proportions without losing the character of the original. This often requires extensive Photoshop or Illustrator work, as well as revising existing layout files. See Prepress for more on reformatting.
Template and master page design
As well as complete book design, I have considerable experience of creating templates and master page designs ready for supply to typesetters, from single books to complete series styleguides. As well as having to look good over a few sample pages, a successful template must have the right type sizes, margins and leading to give the desired final extent when text is flowed in, and above all must be easy to use. That means clear and consistent paragraph and character styles throughout, accompanied by detailed instructions on their usage. The complexity is only increased when creating templates for a series style, which may require several different templates in different type sizes and leadings to accommodate different titles with widely varying text extents, while maintaining the same series look and feel.